Department of Francisco Morazan
The department of Francisco Morazán is one of the seven original departments of the Republic of Honduras.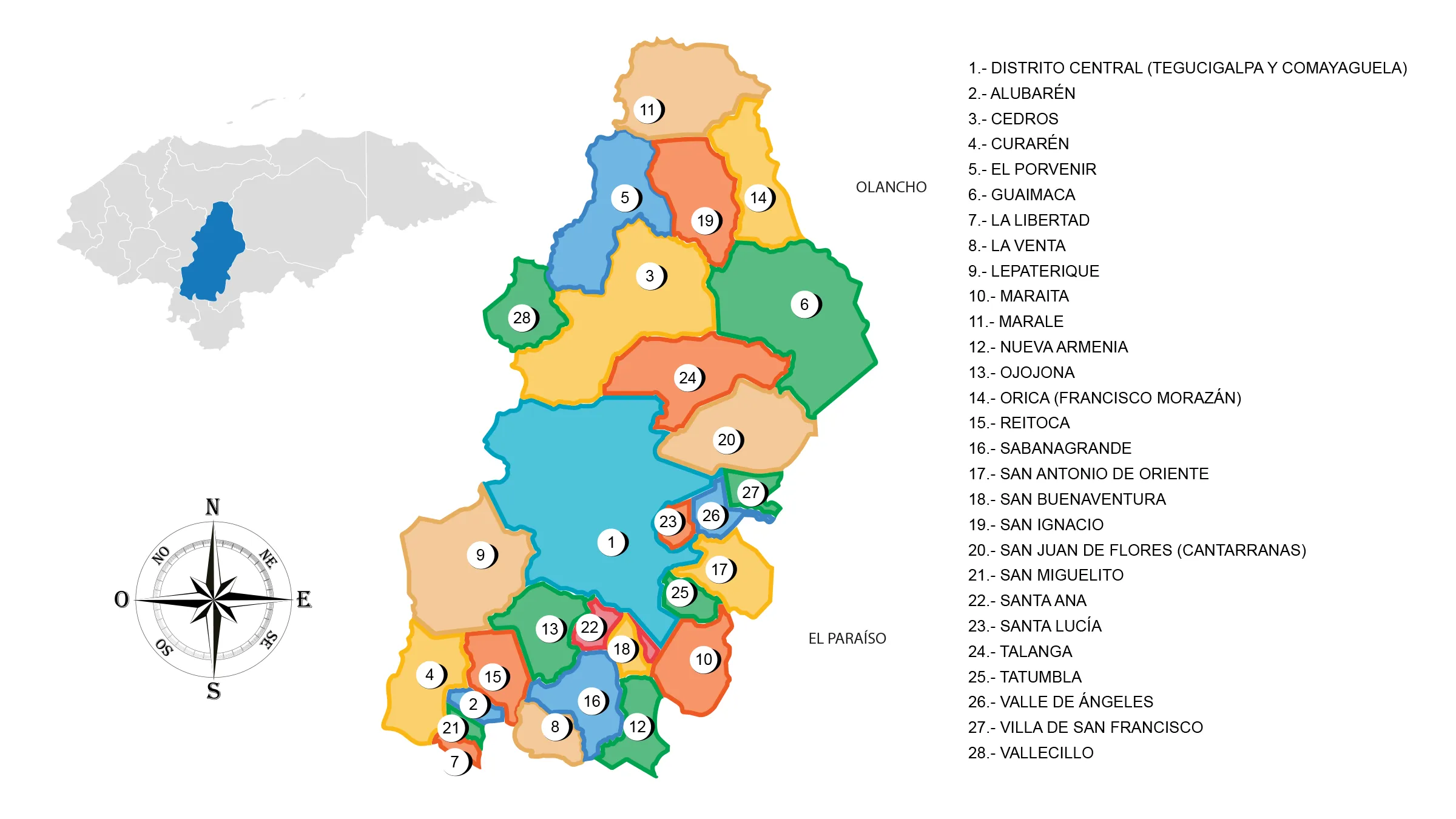 General Information
It was founded by decree of the first Constituent Assembly of the State, issued on June 28, 1825, during the administration of Dionisio de Herrera.
It began to be called Francisco Morazán on January 11, 1943.
Origin of its name: In honor of the Central American hero Francisco Morazán (1792-1842).
Date of creation: June 28, 1825
Departmental capital: Municipality of the Central District (Composed of the cities of Comayaguela and Tegucigalpa, which is also the current capital of the Republic of Honduras)
Land area: 8,580 km2
Population: 1,553,379 643 inhabitants (2012)
Population density: 181.04 hab./km2
Administrative code: 08
Municipalities: 28
Aldeas: 274
History of Francisco Morazán
Mining activity was the main reason for the establishment of the Spaniards in the area. The native people of the indigenous village of Tegucigalpa, probably of Lenca origin, were located in the indigenous province of Sulaco called Manianí. Apparently, September 29, 1578, is the date of the arrival of the Spaniards, and it was later named Real de Minas de Tegucigalpa, Alcaldía Mayor de Tegucigalpa, Villa de Tegucigalpa or San Miguel de Heredia during the colonial period.
It was an important mining and commercial center in the province of Comayagua. In the last years of the Colonial period, it was part of the Intendancy of Comayagua until 1812, when it became the Alcaldía Mayor again. Within its borders, the greatest Honduran hero, José Francisco Morazán, was born, who inspired the dream of Central American unity.
The department was created on June 28, 1825, according to the first constitution of the State of Honduras in that same year. On January 11, 1943, President Tiburcio Carias Andino changed its name to Francisco Morazán. The city was designated as the capital of the State of Honduras on October 30, 1880, by President Marco Aurelio Soto. Since then, it has become the political center where the three branches of the State—the Executive, Legislative, and Judicial—reside. It is also an important center for commercial and industrial development in the country.
In 1869, the department was reduced when the municipality of Texiguat was annexed to the department of El Paraíso. In 1943, Tegucigalpa was renamed 'Francisco Morazán' to commemorate the centennial of the death of the Paladin of Central American Unity, while dictator Tiburcio Carias Andino was in power.
Geography of Francisco Morazán
Location: It is situated in the central part of the country. With a territorial extension of 8,619 km, Francisco Morazán is located in the center of the country.
View on Google Maps
Boundaries
North: departments of Comayagua, Yoro, and Olancho
South: departments of Valle and Choluteca
East: departments of Olancho and El Paraíso
West: departments of Comayagua and La Paz
Municipalities of Francisco Morazán
See List of Municipalities of Honduras
Important Rivers
Talanga, Playos, Guarabuquí or Guayape, Choluteca, Zamorano, Jalán del Hombre.
Protected Areas
La Tigra National Park and Montaña de la Flor;
Corralito Wildlife Refuge;
Carias Bermúdez Multiple Use Reserve;
Cerro Uyuca, Yerba Buena, Sierra Misoco, and El Chile Biological Reserves;
Montaña de la Flor Forest Reserve;
Ayasta Petroglyphs Cultural Monument.
Mountain Ranges: Comayagua, Sulaco, Misoco, Lepaterique.
Mountains: Yerbabuena, Upare, Azacualpa, Cantagallo, Uparito, Santiponce, Curarén, Sinigua, Cerro de Hule, San Juancito, Montañita, El Chile.
Fauna and Flora
Mammals: shrew, squirrel, coati, agouti, skunk, raccoon, deer, paca, peccary, coyote, fox, wildcat, puma, ocelot, and jaguar. Avifauna: woodpecker, chestnut-headed oropendola, ocotero pigeon, roadrunner, magpie, great-tailed grackle, quail, pigeon, parakeet, turquoise-browed motmot, cenzonde, goldfinch, and hawk.
Flora: pine forests, oak forests, liquidambar forests, and evergreen trees.
Economy
The economy of Francisco Morazán is based on commerce, hotels, and restaurants, which account for 24% of the economy. Other significant sectors include non-metallic minerals, chemicals, machinery and equipment, paper and printing products, food and beverages, tobacco, wood derivatives, textiles and clothing. The communal services sector contributes 21% to the economy, while agriculture represents 13% and includes the cultivation of sugarcane, mango, orange, potato, onion, cabbage, tomato, watermelon, cantaloupe, tobacco, corn, beans, and sorghum. Livestock farming, including cattle, horses, and pigs, is also an important agricultural activity.
Commerce: Tegucigalpa, Talanga, Guaimaca.
Mines: Copper, lead, silver, gold, zinc, iron, and mercury deposits.
Tourism
Historic Center of Tegucigalpa
San Juancito
Santa Lucía
El Uyuca
El Zamorano